Thanks for your Guidance
10 years ago
PingSkills News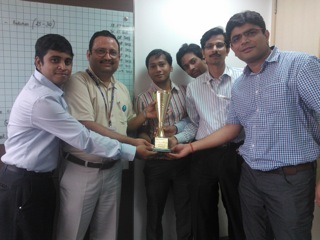 Ujjval presenting the runner-up trophy
---
Dear Alois,
I am sending you the picture of the 2nd runner up trophy (Team event) we won at tournament held recently.
This trophy has brought a great motivation for our TT team to win 1st prize in next tournament. This is appreciated handsomely by our management and our Team pic is circulated across all units in India. We presented the trophy to our HR director
Thank you once again,
Without your guidance it was never possible.
YOU ARE THE BOSS !!!
Regards,
Ujjval
---
---
Become a free member to post a comment about this blog.