PingSkills Rook Table Tennis Bat
We've developed the PingSkills Rook for those getting started in Table Tennis. With the Rook you'll be able to learn all the skills we teach on this site. The PingSkills Rook comes pre-assembled which means you don't need to worry about gluing the rubbers to the blade. As soon as your bat arrives you are ready to play. Once you have progressed we recommend that your purchase a Custom Table Tennis bat.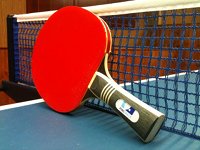 USD $65
The PingSkills Rook was specifically designed for players looking for their first "real" Table Tennis bat. It gives you good control and good spin so you can develop your game. The bat weighs 185 grams including the rubber. The blade is a 5 ply wood and is fairly soft to give you good control. It has a flared handle. It comes with ITTF approved Lion 5 star 2mm rubber on both sides. It has ratings of 7 for speed, 9 for control and 9 for spin.
Watch the PingSkills Rook in Action